Weekly Market Update 08.02.2016

USDCAD: Overall, USDCAD declined for the past few weeks as the US dollar has stumbled and crude oil prices have shown slightly more stability on lingering hopes that a deal to cut crude output by major oil-producing nations might at least be in the very preliminary stages. The pullback for USDCAD has now extended for nearly three weeks, pushing the previously surging currency pair down to seven-week lows. Whether this pullback continues or reverses hinges largely on both the market's ever-shifting view of future Fed rate hikes as well as the rather remote possibility for a crude oil output deal. Any further US dollar weakness should also give a boost to crude oil, whether or not an output deal is reached. In the event of this further weakness in the US dollar, USDCAD could extend it's losses. However, they may be a rebound for this pair, especially if crude oil continues its entrenched bearish trend.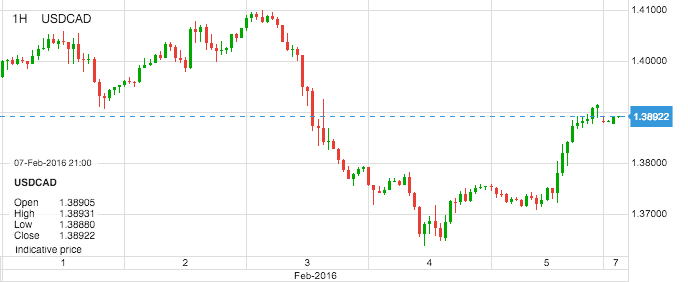 AUDUSD: AUDUSD continued its rebound from multi-year lows, having just reached up to the key 0.7200 resistance level before retreating after the US employment data was released on Friday. Prior to the current rebound, AUDUSD had formed a small, inverted head-and-shoulders pattern near its multi-year lows. This bullish head-and-shoulders pattern that had been developing since the beginning of the year has given AUDUSD bulls cause for some optimism that a bottom may have formed for the embattled currency pair as it consolidated near recent long-term lows. Having broken out above the pattern, AUDUSD could head for further gains, especially if the US dollar continues to weaken. A breakout above the 0.7200 resistance level could provide the momentum for a further recovery.



UPCOMING KEY MARKET EVENTS

| | | | |
| --- | --- | --- | --- |
| Date / Time | Currency | Event | Previous |
| 09 Feb/0645 | CHF | Unemployment Rate s.a (MoM) (Jan) | 3.4% |
| 10 Feb/1500 | GBP | NIESR GDP Estimate (3M) (Jan) | 0.6% |
| 11 Feb/2330 | AUD | RBA's Governor Glenn Stevens Speech |   |
| 12 Feb/1200 | EUR | Gross Domestic Product s.a. (QoQ) (Q4) | 0.3% |
| 12 Feb/1330 | USD | Retail Sales (MoM) (Jan) | -0.1% |
Time : GMT (Source: Fab Trader Platform)
Fixed Deposit Rates (USD)
| Tier | 30 Days | 90 Days | 180 Days | 360 Days |
| --- | --- | --- | --- | --- |
| 50k-99k | 0.40 | 0.75 | 1.00 | 1.25 |
| 100k-499k | 1.80 | 2.00 | 2.25 | 3.00 |
| 500k-999k | 2.25 | 2.50 | 2.75 | 3.50 |
| 1 Million and above | 2.50 | 3.00 | 3.50 | 4.00 |
(Source: Fab Treasury)
Fixed Deposit Rates (EUR & GBP)
| Currency | 30 Days | 90 Days | 180 Days | 360 Days |
| --- | --- | --- | --- | --- |
| EUR | 0.12 | 0.20 | 0.25 | 0.30 |
| GBP | 0.70 | 0.81 | 0.90 | 1.21 |
(Source: Fab Treasury)
Market Rates (from 5th - 11th October)
| Currency | Open | Close | High | Low |
| --- | --- | --- | --- | --- |
| USDJPY | 120.995 | 121.470 | 116.226 | 116.801 |
| GBPUSD | 1.41846 | 1.46668 | 1.41846 | 1.44469 |
| EURUSD | 1.08225 | 1.12478 | 1.08136 | 1.11452 |
| AUDUSD | 0.70815 | 0.72411 | 0.70012 | 0.70468 |
| USDZAR | 15.87615 | 16.43005 | 15.45683 | 16.02258 |
| USDGHS | 3.99073 | 3.99520 | 3.98560 | 3.99520 |
| USDNGN | 198.77856 | 199.10377 | 196.27420 | 199.07080 |
| USDKES | 102.37840 | 102.37840 | 102.08481 | 102.15394 |
Metals and Stocks (from 5th - 11th October)
| Metal | Open | Close | High | Low |
| --- | --- | --- | --- | --- |
| Silver | 14.2090 | 15.0205 | 14.1985 | 14.9638 |
| Gold | 1,117.47 | 1,174.49 | 1,115.37 | 1,173.09 |
| Stocks |   |   |   |   |
| US 500 | 1,937.71 | 1,946.92 | 1,871.22 | 1,879.50 |
| HK 50 | 19,633.0 | 19,710.0 | 18,700.0 | 19,310.0 |
| UK 100 | 6,107.29 | 6,121.79 | 5,788.66 | 5,831.31 |
| Germany 30 | 9,825.55 | 9,836.55 | 9,216.80 | 9,227.30 |
European Shares Fall as Oil Drops, U.S. Payrolls Miss Forecasts
European shares declined for a fifth day in volatile trading as investors assessed earnings, oil prices erased gains, and some U.S. payroll data disappointed.
ArcelorMittal damped an index of commodity producers, falling 5.5 percent after announcing plans to raise $3 billion from investors and sell a $1 billion stake in Spanish auto-parts maker Gestamp. Total SA and Eni SpA dragged energy stocks lower as oil gave up gains. Automakers posted the best performance on the Stoxx Europe 600 Index, with Nokian Renkaat Oyj contributing the most to progress after reporting better-than-estimated profit.
The Stoxx 600 slid 0.9 percent to 325.9 at the close of trading. The measure swung between gains and losses more than 25 times, slipping as much as 1 percent and rising 0.6 percent. It posted a 4.8 percent weekly decline. A gauge tracking equity swings has jumped 36 percent this year as the Stoxx 600 has lost about 11 percent, with concern about bad loans at banks adding to worries about an oil rout and China's economy.
"People are seeing the negative effects of the lower prices and still waiting to see the positive," said William Hobbs, head of investment strategy at Barclays Plc's wealth-management unit in London. "Until we see evidence of better consumption it's likely equity markets will be correlated with the oil price and that suggests volatility. Earnings aren't confirming people's worst fears, but they are a bit choppy."Investors also looked to a U.S. report on January employment for indications of the sturdiness of the American economy and the trajectory of interest rates in the wake of this year's turmoil. Payrolls increased by 151,000 last month, Labor Department figures showed Friday. The jobless rate fell to 4.9 percent, the lowest level since February 2008. Economists had forecast a 190,000 gain in nonfarm payrolls with unemployment holding at 5 percent. BNP Paribas SA helped limit declines on a gauge of lenders, rising 1.5 percent after announcing a revamp of its investment bank. Volvo AB gained 1.7 percent after the second-biggest truckmaker reported fourth-quarter earnings of 5.38 billion kronor ($640 million), compared with a loss of 1.43 billion kronor a year earlier. Hexagon AB advanced 4.1 percent after the largest maker of measuring instruments announced better-than-estimated fourth-quarter profit and raised its dividend. (Source: bloomberg.com)
U.S. Stocks Sink on Tech Rout as Dollar Climbs After Jobs Data
U.S. stocks tumbled, with the Nasdaq 100 Index plunging to its lowest in five months, as disappointing earnings sent consumer and technology shares lower. The dollar advanced after signs of wage growth in America forced investors to reconsider the timing and pace of future interest-rate increases.
Losses of more than 6 percent in companies from Netflix Inc. to Amazon.com Inc. sent the Nasdaq gauge lower, as quarterly results in the technology industry fueled selling of some of last year's biggest winners. The Nasdaq Internet Index plunged the most since 2011, while Tableau Software Inc. tumbled almost 50 percent after a miss on licensing revenue, sparking a rout in data-storage firms including Salesforce.com Inc.
Yields on 10-year Treasury notes were little changed at 1.84 percent, after falling to 1.79 percent Wednesday. The Bloomberg Dollar Spot Index rebounded by the most this year, after posting its biggest two-day decline since 2009 earlier this week. Gold climbed and oil closed below $31 a barrel.
Concern the U.S. is vulnerable to global headwinds has dominated markets this week, fueling a retreat in the dollar and stocks, and pushing futures traders to price in no Fed rate hikes this year. The Labor Department report unsettled that view, reintroducing the Fed as an element of volatility in markets roiled by China's uncertain growth path and a persistent rout in crude.
"Investors are selling the big tech and large-cap names to stem any further losses," said Stephen Carl, principal and head equity trader at Williams Capital Group LP. "Economic numbers were mixed, and the market started off modestly down before starting to make new lows as it went along. You've seen profit-taking going into the weekend as well." (Source: bloomberg.com) 
Oil's Drop Puts Pressure on Algeria's Government
It withstood the political tumult that felled Arab leaders from Libya's Muammar al-Qaddafi to Egypt's Hosni Mubarak. Now Algeria's leadership faces a graver threat from what was once its source of wealth: oil.
The global plunge in prices is making it harder to afford expensive subsidies that help fend off discontent, and coincides with mounting concern over the health of President Abdelaziz Bouteflika. If either the economy or a political succession is managed badly, the holder of Africa's largest gas reserves and a key ally of the West in the battle with Islamist militancy could unravel.
The Algerian parliament on Sunday approved constitutional changes that offer more political rights to key constituencies, including the indigenous Amazigh community, women and businessmen.
Here, four leading analysts give their views on where the OPEC member is heading.inflation in the U.S., which hasn't reached the Fed's 2 percent target since 2012. (Source: bloomberg.com)