Daily Market Update 14th November 2016
ECONOMIC DATA OF THE DAY
| Time | CY | Indicator | Forecast | Actual | Previous |
| --- | --- | --- | --- | --- | --- |
| 07:50 | JN | GDP SA QoQ | 0.20% | 0.50% | 0.20% |
| 07:50 | JN | GDP Annualized SA QoQ | 0.80% | 2.20% | 0.70% |
| 12:30 | JN | Industrial Production MoM | -- | -- | 0.00% |
(Source: FabTrader)

SPEECHES
09.00 – JP – BOJ's Kuroda to speak in Nagoya
23.00 – EU – ECB's Draghi to attend event Italy Treasury event in Rome.
OVERNIGHT NEWS
US ELECTIONS:
Donald Trump nominated Reince Priebus as chief of staff and Stephen Bannon, chief executive. Pairing the two is an attempt to straddle the alt-right and Tea Party wing, represented by Bannon, and the establishment elements of the Republican Party who have their man in Priebus.
The president-elect would like to cut corporate tax rates to 15% and reverse a rule requiring brokers to put clients' interests first in handling retirement investments, adviser Anthony Scaramucci wrote in the FT
As for that wall: Trump now says he'd be OK with some sections being fences, and added he may deport up to three million undocumented immigrants with criminal records. His now busy calendar includes a meeting this week with Shinzo Abe in New York.
NEW ZEALAND:
An earthquake shook New Zealand's South Island overnight, killing at least two people, damaging infrastructure and prompting a coastal evacuation because of the risk of tsunamis. The 7.8-magnitude tremor was centered in a rural area, and Prime Minister John Key decided against declaring a national emergency and said the death toll probably won't increase.
MALAYSIA:
Malaysia's central bank said on Saturday (Nov 12) that it was taking measures to re-enforce existing rules that are in place to prohibit facilitation of offshore trading of the ringgit.
The bank said Malaysia's currency remains a non-internationalised currency, and thus any offshore trading of ringgit such as ringgit non-deliverable forward (NDF) is not recognised. It added that Malaysia's forex market remains open and the bank stands ready to provide liquidity if necessary to ensure an orderly market.
For info, Foreign investors own 51% of the local currency bonds which represents $60 bn. Even though 40% of these $60 are Malaysia friendly (investors in Singapore or state related investments), there is still a big portion owned by foreign investors who could sell their assets and push USDMYR much higher
FOREIGN EXCHANGE (INDICATIVE RATES)
| Currency | Last | % Change | Overnight Range |
| --- | --- | --- | --- |
| DXY | 99.24 | 0.28 | 98.54 - 99.13 |
| EURUSD | 1.0825 | -0.35 | 1.0830 - 1.0923 |
| USDJPY | 106.89 | -0.17 | 106.04 - 106.93 |
| AUDUSD | 0.7543 | -0.88 | 0.7525 - 0.7630 |
| GBPUSD | 1.2567 | 0.33 | 1.2526 - 1.2674 |
(Source: FabTrader)

COMMODITIES (INDICATIVE RATES)
| Currency | Price USD | % Change | Overnight Range |
| --- | --- | --- | --- |
| Gold | 1227.64 | -2.51 | 1219.25 - 1265.49 |
| Silver | 17.37 | -6.68 | 17.20 - 18.85 |
| Oil (BRENT) | 44.75 | -2.38 | 44.19 - 45.89 |
| Oil (WTI) | 43.41 | -2.80 | 43.03 - 44.63 |
(Source: Bloomberg and Saxo)

COMMODITIES
Precious Metals: Gold crashed $40 and ended the week breaking the important $1250 key level after hawkish comments from Fisher. Gold had a volatile week and traded in a weekly range of more than a 100 dollars for the first time since Feb this year.
Oil: Oil continues its retreat and sank to its eight week low over concerns on oversupply and gloomy outlook of an OPEC deal. Crude oil production in October increased to 33.64 million barrels. Number of rigs drilling for oil also rose by two in the past week to 452.

FOREX NEWS


Nvidia was up 29.8% and skyrocketed to record high on Friday after its latest earnings of 83 cents/share crushed analyst market estimates of 57cents/share and guides on higher earnings for the current quarter. Nvidia's core business, gaming (62% of sales), grew 63% year over year to $1.2 billion in sales. Nvidia closed at $87.92.Competitor AMD also rose 6.2% to $6.685 after Nividia's record strong earnings.
Europe's largest insurer Allianz, rose 1.4% after it signalled that they might return cash to shareholders after reporting forecast-beating quarterly earnings on Friday. Allianz also commented that it is the first positive flows into U.S. bond fund manager Pimco in over three years as insurers adapt to low interest rate environment.

Trump-Trade Reversal Sees European Stocks Losing More Ground

Miners, construction firms slide after Wednesday's rally
Aberdeen Asset, Ashmore tumble on emerging-market concern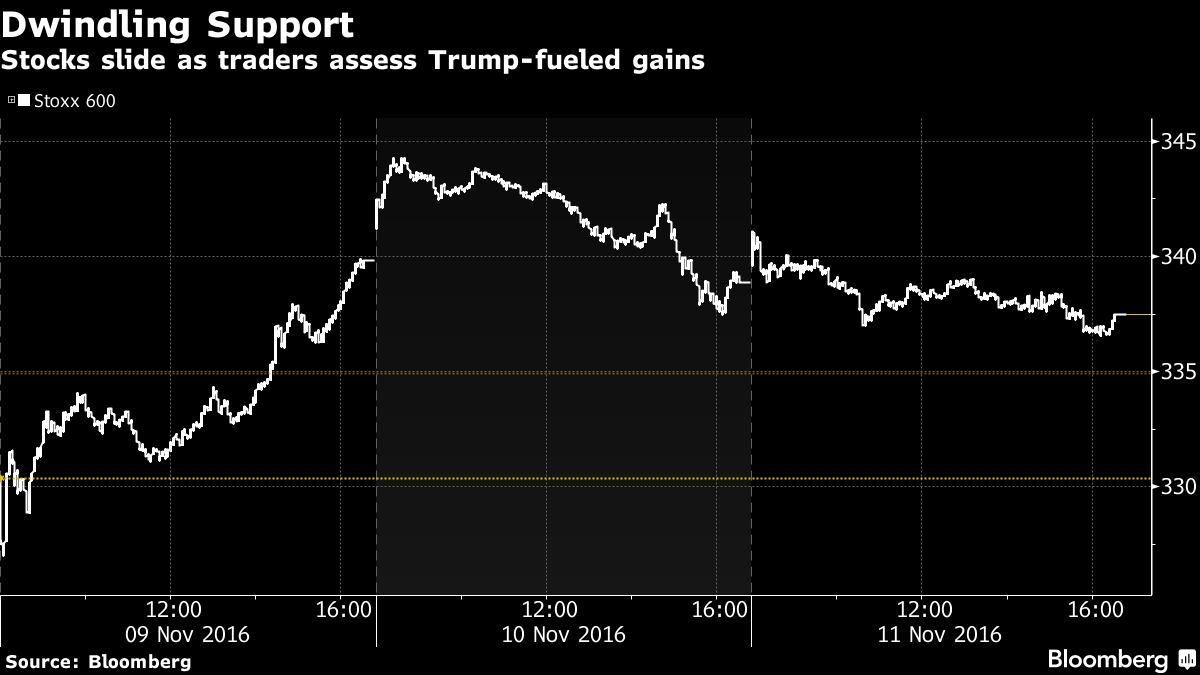 Winners and losers among European stocks in the immediate aftermath of Donald Trump's election victory swapped places on Friday, sending equities lower.
Industry groups that rallied as Trump defeated Hillary Clinton lost ground, while those that were punished recovered, on bets the moves went too far. Construction firms and commodity producers were among the worst decliners, after rallying Wednesday on optimism of higher infrastructure spending. Drugmakers also fell, after surging on speculation of less regulatory oversight. Bond-proxy sectors such as utilities and real estate firms rebounded from two days of losses.
The Stoxx Europe 600 Index fell 0.4 percent at the close after failing to hold opening gains of as much as 0.7 percent. The second daily drop trimmed the benchmark's biggest weekly rise since July. European equities lost momentum after a three-day rally that broke their longest spell without gains since 1994.
Read the full article at bloomberg.com