Daily Market Update 24th October 2016
ECONOMIC DATA OF THE DAY
| Time | CY | Indicator | Forecast | Actual | Previous |
| --- | --- | --- | --- | --- | --- |
| 08:30 | JN | Nikkei Japan PMI Mfg | -- | 51.7 | 50.4 |
| 13:00 | SI | CPI YoY | -0.20% | -- | -0.30% |
| 13:00 | SI | CPI NSA MoM | 0.10% | -- | 0.50% |
| 15:00 | FR | Markit France Manufacturing PMI | 50 | -- | 49.7 |
| 15:30 | GE | Markit/BME Germany Manufacturing PMI | 54.4 | -- | 54.3 |
| 16:00 | EC | Markit Eurozone Manufacturing PMI | 52.7 | -- | 52.6 |
| 21.45 | US | Markit US Manufacturing PMI | 51.5 | -- | 51.5 |
(Source: FabTrader)

SPEECHES
14:30 – GBP – BOE's Minouche Shafik speaks at conference in Hong Kong
15:30 – EUR – ECB's supervision head Nouy speaks in Milan
21:00 – USD – Fed's Dudley speaks at US Treasury Market Event in New York
21:05 – USD – Fed's Bullard speaks on economy, monetary policy in Arkansas
OVERNIGHT NEWS
FED:
Federal Reserve Bank of San Francisco President John Williams says "this year would be good" when asked to be more specific about his "sooner rather than later" preference for next rate increase. One move this year, a few more in 2017 makes sense given way economy seems to be performing.
CHINA:
China's leaders gather for their annual plenum in Beijing this week, pivotal to President Xi Jinping's efforts to consolidate power. Topping the agenda is institutionalizing his unprecedented anti-corruption campaign.
The Philadelphia Fed index slipped from 12.8 in September to 9.7 but better than expected (5.0). Most of the indicators contained in the Philadelphia Fed's manufacturing outlook survey emitted favorable signals, including the possible end to the capital spending recession. Improvement in key barometers including new orders, shipments and the labor market, all imply a steady improvement for the manufacturing sector (Bloomberg). 
OPEC:
Iraq threatened to derail OPEC's plan to stabilize crude markets by saying it should be exempt from planned output cuts. Iraq' s Oil Minister Jabbar Al-Luaibi said Iraq should be exempted from trimming production because it's embroiled in a war with Islamic militants
CANADA:
CPI climbed less than expected at 0.1% MoM (Exp. 0.2%) from -0.2% and 1.3% YoY from 1.1% (Exp. 1.4%) and Retail Sales dropped 0.1% MoM (Exp. +0.3%)
The report comes after Bank of Canada Governor Stephen Poloz marked down his inflation forecast Wednesday and said policy makers discussed cutting interest rates because of a deteriorating growth outlook
FOREIGN EXCHANGE (INDICATIVE RATES)
| Currency | Last | % Change | Overnight Range |
| --- | --- | --- | --- |
| DXY | 98.69 | 0.39 | 98.30 - 98.81 |
| EURUSD | 1.0879 | -0.41 | 1.0859 - 1.0930 |
| USDJPY | 103.93 | -0.14 | 103.52 - 104.20 |
| AUDUSD | 0.7606 | -0.25 | 0.7588 - 0.7651 |
| GBPUSD | 1.2216 | -0.16 | 1.2172 - 1.2260 |
(Source: FabTrader)

COMMODITIES (INDICATIVE RATES)
| Currency | Price USD | % Change | Overnight Range |
| --- | --- | --- | --- |
| Gold | 1266.46 | 0.06 | 1261.26 - 1268.08 |
| Silver | 17.55 | 0.05 | 17.40 - 17.59 |
| Oil (BRENT) | 51.78 | 0.78 | 51.12 - 51.94 |
| Oil (WTI) | 50.85 | 0.83 | 50.21 - 51.02 |
(Source: Bloomberg and Saxo)

COMMODITIES
Precious Metals: Since falling more than 50 dollars in a single day 3 weeks ago, gold has been consolidating in a range from 1250 and 1275. MACD crossover was seen last week but price remains capped at 1275. Prefers to buy on dip at prices closer to 1250 which will offer a better risk to reward ratio.
Oil: Data from Baker Hughes reported an increase in rig count. This is the 17th consecutive rise in rig count. Oil price action suggests that it may be trading in its new found range [51 - 53] before a break in either direction. Iraq commented over the weekend that it may not join the production cut in the OPEC meeting.
FOREX NEWS


The Dow and S&P 500 ended off their lows of the session flat, while the Nasdaq rallied. All three indexes ended a string of back-to-back weekly declines.
General Electric Co. fell 0.3% to $28.98, ending well off its lows of the session after posting worse-than-expected revenue growth in its latest quarter and said it would increase its stock-buyback program by $4 billion after disappointing in the first half of the year.
Microsoft (+4.21%) reported profits for its fiscal first quarter Thursday that beat Wall Street's expectations by more than 11%, thanks to cloud computing and a bit of financial engineering. Investors responded by boosting Microsoft shares higher than $60, up almost 6% after-hours
Burberry shares leapt to the top of the benchmark, as much as 8.1% after a report the British fashion house may merge with American high-end goods retailer Coach Inc. (-1.00%) in a $20 billion deal.
British American Tobacco pared early gains, leaving BAT down 2.9% after the company proposed buying the stake in Reynolds American Inc. (+14.01%) that it does not already own for $47 billion.
Euro Approaches Seven-Month Low on Renewed Policy Divergence Bet
Single currency set for longest daily losing streak since May
Euro will weaken ahead of December ECB meeting: Macquarie
The euro slumped toward a seven-month low amid speculation the European Central Bank will maintain its easy monetary policy as the Federal Reserve prepares to raise interest rates this year.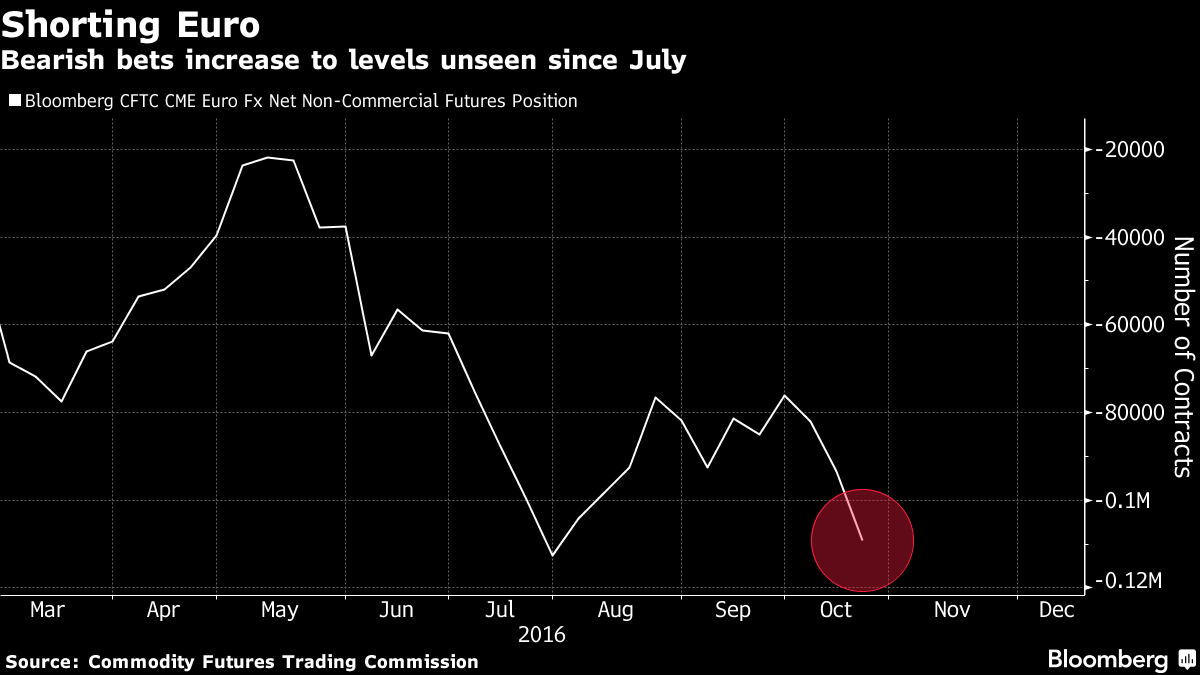 The single currency slipped for a third week after ECB President Mario Draghi said Oct. 20 that neither tapering nor an extension of the bank's bond-buying plan were discussed at its two-day policy meeting. The euro weakened for a fifth day, the longest losing streak since May, as expectations fade that the region's central bankers back a sudden end to quantitative easing after March, which is the latest date that they've committed to for the program. Speculators have increased their bearish-euro bets to the most since July.
Read the full article at bloomberg.com