Daily Market Update 21st October 2016
ECONOMIC DATA OF THE DAY
| Time | CY | Indicator | Forecast | Actual | Previous |
| --- | --- | --- | --- | --- | --- |
| 12:00 | MA | CPI YoY | 1.80% | -- | 1.50% |
| 20:30 | CA | CPI YoY | 1.40% | -- | 1.10% |
| 20:30 | CA | CPI COre YoY | 1.80% | -- | 1.80% |
| 22:00 | EC | Consumer Confidence | -8 | -- | -8.2 |
(Source: FabTrader)

SPEECHES
17:00 - EUR – Bundesbank's Weidmann, Italy's Padoan speak in Frankfurt
22:15 - USD – Feb's Tarullo speaks in New York
OVERNIGHT NEWS
ECB:
The ECB kept the rates unchanged and left the Asset Purchase Target at Eur 80 Bn a month. The statement said that " The Energy Information Administration reported Wednesday that:
o    "The Governing Council continues to expect the key ECB interest rates to remain at present or lower levels for an extended period of time, and well past the horizon of the net asset purchases,
o    The Governing Council confirms that the monthly asset purchases of 80 billion euros are intended to run until the end of March 2017, or beyond, if necessary, and in any case until it sees a sustained adjustment in the path of inflation consistent with its inflation aim
-       Draghi added during his speech that an abrupt ending to bond purchases is unlikely. Draghi noted that there is no "convincing upward trend" in underlying inflation, adding that "we want a convergence which is self sustained, without the extraordinary policy support in place now."
US:
The Initial Jobless Claims rose to 260k (Exp. 250k) and Continuing Claims to 2057k (Exp. 2053k) probably sue to the side effect of Hurricane Matthew. There is no outside signs that the job market should deteriorate more.
The Philadelphia Fed index slipped from 12.8 in September to 9.7 but better than expected (5.0). Most of the indicators contained in the Philadelphia Fed's manufacturing outlook survey emitted favorable signals, including the possible end to the capital spending recession. Improvement in key barometers including new orders, shipments and the labor market, all imply a steady improvement for the manufacturing sector (Bloomberg). 
BRAZIL:
Brazil Central Bank decided to cut rates from 14.25% to 14.00% as expected. The monetary policy committee's accompanying statement reiterated that further reductions to the Selic rate depend on two conditions necessary to achieve the inflation target center of 4.5% in 2017.
o    First, consumer inflation components more sensitive to the business cycle and to economic slackness, such as services inflation, should slow due to the recession and comparatively high real rates. 
o   Second, fiscal adjustment should be approved and implemented timely and consistently with inflation next year. The second condition has been partially fulfilled due to the recent approval in the lower house of a constitutional ceiling on government expenses after 2016.
FOREIGN EXCHANGE (INDICATIVE RATES)
| Currency | Last | % Change | Overnight Range |
| --- | --- | --- | --- |
| DXY | 98.32 | 0.40 | 97.66 - 98.40 |
| EURUSD | 1.0927 | -0.41 | 1.0916 - 1.1039 |
| USDJPY | 104.09 | 0.49 | 103.35 - 104.11 |
| AUDUSD | 0.7628 | -1.23 | 0.7621 - 0.7734 |
| GBPUSD | 1.2256 | -0.25 | 1.2210 - 1.2298 |
(Source: FabTrader)

COMMODITIES (INDICATIVE RATES)
| Currency | Price USD | % Change | Overnight Range |
| --- | --- | --- | --- |
| Gold | 1265.76 | -0.27 | 1264.95 - 1274.57 |
| Silver | 17.54 | -0.81 | 17.45 - 17.74 |
| Oil (BRENT) | 51.38 | -2.45 | 51.17 - 52.72 |
| Oil (WTI) | 50.43 | -2.27 | 50.25 - 51.58 |
(Source: Bloomberg and Saxo)

COMMODITIES
Precious Metals: Precious metals dropped yesterday after attempting to close above the 200d MA at 1268. The main support is at 1250 but we need to confirm a break above the 200d MA to see the direction changing. Silver is trading just at the support level set by the 200d MA at 17.3267. there is a good risk reward to buy at that level with a stop below that level. Platinum is trading at the small support of 931 but the break below 950 should be significant.
Oil: Oil retreated from 15-month high after Rosneft, Russia's largest oil company, said the nation is capable of a substantial increase in production. Nigeria cut the price of every type of crude it sells in an effort to regain share of the global oil market at a time when there's a "huge" glut of cargoes. On WTI chart, prices struggled to break the resistance around $51.70, which may present upside if the inverse head and shoulder formed since July 2015 is broken.
FOREX NEWS


U.S. stocks closed lower as a sharp drop in oil and telecommunications shares weighed on the market sentiment. The S&P 500 index closed down 2.95 points 2,141.34, with the telecom sector leading the losers with 2% decline.
Verizon Communications dropped by 2.5% after it reported that revenue sank 6.7% as subscriber additions slumped amid an ongoing pricing war. However the company backed its guidance for 2016 earnings to remain flat with 2015.
Electric car maker Tesla Motors Inc. shares closed down by 2.2% after its product announcement late Wednesday, in which Tesla talked up new self-driving hardware that won't work right away.
European stocks reversed mid-session lows to edge higher amid weakness in the euro after the ECB cooled speculation of tapering on its monetary stimulus. The Stoxx Europe 600 index edged up 0.65 to 344.29 with banking sector leading the way with 1.3% advance. In London the FTSE 100 inched up 4.98 points to 7,026.90.
Deutsche Bank jumped 3.8% after German business monthly Manager Magazine said sovereign wealth funds from Qatar and Abu Dhabi and a Chinese investor could buy a 25% stake in the bank.
Swiss food conglomerate Nestle declined 0.8% after the Swiss it cut its FY organic-growth target to 3.5% from August's management expectation that last year's 4.2% growth rate to be maintained.
Oil Trades Near $50 as Investors Weigh Production Cut Agreement
Russia is capable of substantial production increase: Rosneft
Nigeria cuts price of all its crude to boost market share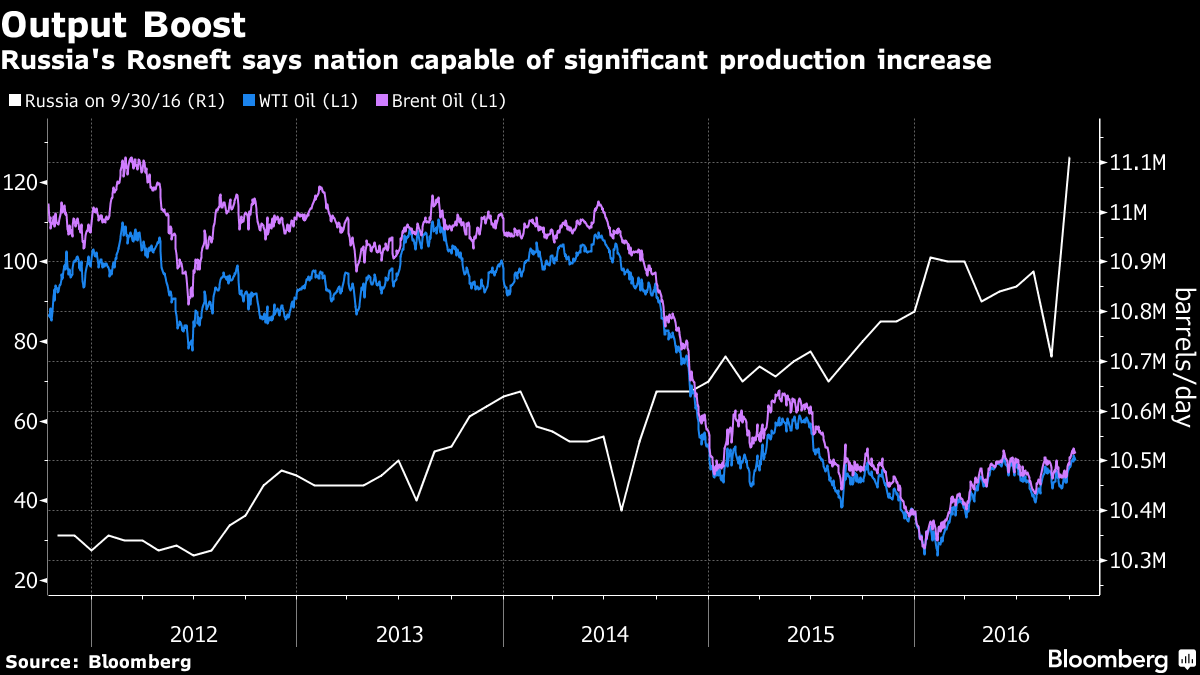 Oil traded near $50 a barrel as investors weighed a potential deal to reduce supply after Russia's largest oil company said the country was capable of a significant increase to output.

December futures lost 0.4 percent in New York after declining 2.3 percent Thursday. Russia has the capacity to add as much as 4 million barrels a day if there's demand, Rosneft PJSC Chief Executive Officer Igor Sechin said, less than two weeks after President Vladimir Putin pledged his support for efforts by OPEC to limit output. Nigeria said it cut the price of every type of crude it sells in an effort to boost its global market share.
Read the full article at bloomberg.com